HIROSHIGE "53 STATIONS OF THE TOKAIDO"
Later 19th Century edition, Japanese color woodblock prints, beautiful quality scarce
click image for expanded view, description and price: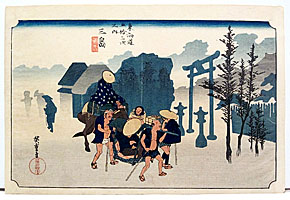 ---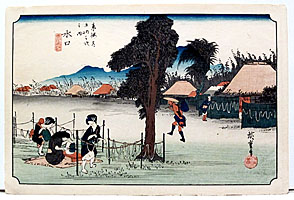 ---
---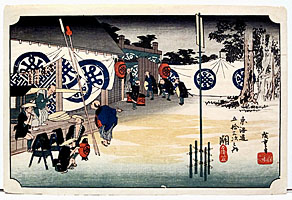 ---
Among the most famous works of the Japanese woodcut technique, these color woodblock prints are from the "53 Stations of the Tokaido"
series by Hiroshige. First printings are rare and extremely valuable. In the late 19th century the original publisher, Hoeido,
meticulously refurbished and recarved the printing blocks and published the series again in a very limited edition.
They used the same mulberry paper and vegetable printing inks as the originals.
This is a very scarce and beautiful 19th century Japanese woodblock print.